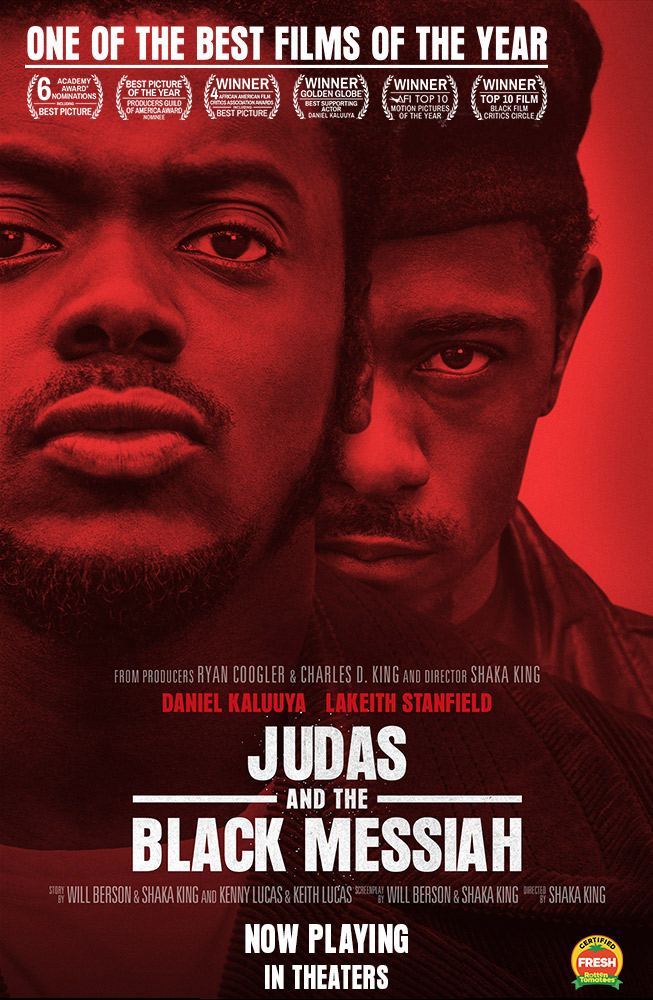 Three days ago it finally happened. Judas and the black Messiah dropped. I've been waiting Waiting WAITING to see this movie.
Even with some of the negativity, I was ready. If you didn't know, there were moments of controversy leading up to the release of the film. The one that sticks out the most to me was whether or not Daniel Kaluuya should've played Fred Hampton. I won't get into the politics of it as I think it is an argument for American Descendants of Slaves (ADOS) and they can better articulate their points of view.
Make no mistake, drama and conflict aside, Daniel Kaluuya and Lakeith Stanfield shine! This movie is EVERYTHING!
I want to start of by saying that interestingly the movie is more of an illustration of William O'Neal played by Lakeith Stanfield. I don't think I knew that going in. I honestly thought it was going to focus more on Fred Hampton. In the film, you see how William O' Neal (Lakeith Stanfield) was recruited, groomed, and manipulated by the FBI to infiltrate the Black Panther Party and deceive Fred Hampton.
I can't tell you what to think or how to feel. However I will tell you to watch this movie. You have to watch this movie! It is currently in theatres and HBO Max. If you don't have HBO Max, ask a friend. Somebody you know, somewhere, has access to it. It is just that good!
I don't want to get into too much detail about the film because I really would like for you to watch it. What I will share are the emotions I experienced. It was a rollercoaster to say the least.
Awe and esteem were the first, as the opening credits showed clips of various iconic figures and images. Black people are so resilient. AMAZING! The marches, protests, gatherings, and etc. were done for the betterment of ALL. Then something in me shifted and I felt despair. Decades later and we are still marching, protesting, and gathering to fight injustice. When will all this end? As the movie progressed, I began to feel inspired. No matter the political climate or racial tension, there are Black men and women fighting for the progression and advancement of the community. That positive emotion didn't last long. *DEEP HEAVY SIGH* Next came frustration. With every action there is a reaction of equal and opposite force. This is Newton's 3rd law of motion. It fits here so rock with me for a bit sunshine. For every move the Black Panther Party made to advance Black people there was a group or entity discouraging or working against them. For every speech and idea Fred Hampton promoted there was someone there to block or suppress his movement. Lastly, as the movie ended I found myslef overcome with sadness and anger. The bad guys shouldn't win! Where is the happy ending?
As I write this, I'm still processing. Mostly because I believe films do more than tell a story. There is a goal. Although, I'm very much in the early stages of navigating my emotions and thoughts, I think the above quote from Fred Hampton is an adequate summation.
Let Your Revoultuion Light Shine!